computer
Local Sonoma
County Website Design

What makes a Great Website?
What makes a great website for promoting you or your brand in the digital world? According to a recent study, as many as 80 percent of people will research a purchase online before making it. Presenting users with the best digital portrayal possible can help drive better sales and higher quality leads.
A website should be able to accomplish one thing: provide the basic information to the user. Starting with the basics, a responsive design and a strong informational homepage that explains what the business is and what it does. To kick things up a notch, a great website will include things like links to social media pages, pricing pages, a contact method and a good knowledge base.
To take things to the next level, great websites will incorporate client testimonials, in text or video form. They will also make use of great branding practices, with things such as modern logo design that accurately represents your brand. To top it all off, optimizing your website for search engines, so the right users are finding your website!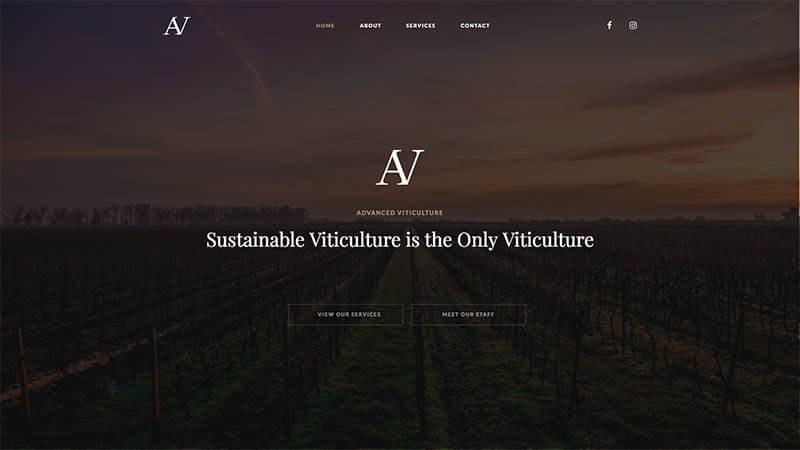 Great Web Design should make your customer's experience as simple and straight forward as possible. We like to practice what we preach, keep scrolling to see our basic list of service offerings and a form to contact us directly. After that we will be in contact to schedule a quick phone call to better assess your needs and build a plan that will help your business grow. Success and growth is just a couple clicks away, what are you waiting for?
Great Web Design is the Intersection of Logic and Creativity
Development / Design Features
format_shapes
Responsive Design
Looks Great on Any Device at Any Size.
network_check
Rocket Fast
Optimized for Lightning Fast Speeds
line_style
CMS Framework
Utilizing WordPress, the World's Most Popular CMS
chrome_reader_mode
Contact Method
Contact Pages, Forms and Live Chat Solutions
code
Custom Features
Need Something Completely Custom? We've got you Covered
settings
Support / Training
Make Your Own Changes or Have Make Them for You
dashboard
Professional Hosting
Professional Quality Hosting Services, Fully Manage and Hassle Free
check
HTML5 Valid
Valid HTML5 for better SEO and Accessibility
Find the perfect Web Design plan for your business.
Starts at
Small Business Plan
Semi-Custom Website Design
Four sub pages are included, for a total of a five page site.
Optional Additional Pages Only $190 Each and Can be Added at Anytime
Interactive Contact Form to Go Straight to Email
Built to be Search Engine-Friendly
Manual Submission to Search Engines
Responsive Design is Included, effectively Including a Mobile Version for No Additional Charge
Hosting is only $35 Per Month for a WordPress Website
Add or Remove Features for Customized Plans & Pricing
E-Commerce and/or SEO/Marketing Plans are Available to Add On
Get Started Today
Starts at
E-Commerce Special
Semi-Custom Website Design
Four sub pages are included, for a total of a five page site.
Optional Additional Pages Only $190 Each and Can be Added at Anytime
Interactive Contact Form to Go Straight to Email
Built to be Search Engine-Friendly
Manual Submission to Search Engines
Responsive Design is Included, effectively Including a Mobile Version for No Additional Charge
Hosting is only $45 Per Month for a WordPress Website w/ E-Commerce
Add or Remove Features for Customized Plans & Pricing
SEO/Marketing Plans are Available to Add On
Get Started Today
Starts at
Large Business / Custom Plans
Custom / Semi-Custom Website Design
9 sub pages are included, for a total of a 10 page site.
Optional Additional Pages Only $190 Each and Can be Added at Anytime
Interactive Contact Form to Go Straight to Email
Built to be Search Engine-Friendly
Manual Submission to Search Engines
Responsive Design is Included, effectively Including a Mobile Version for No Additional Charge
Hosting is only $35 Per Month for a WordPress Website
Add or Remove Features for Customized Plans & Pricing
E-Commerce and/or SEO/Marketing Plans are Available to Add On
Get Started Today
Starts at
Landing Page / Single Page Website Design
Semi-Custom Landing Page Design
Interactive Contact Form to Go Straight to Email
Built to be Search Engine-Friendly
Manual Submission to Search Engines
Responsive Design is Included, effectively Including a Mobile Version for No Additional Charge
Hosting is only $35 Per Month for a WordPress Website
Add or Remove Features for Customized Plans & Pricing
E-Commerce and/or SEO/Marketing Plans are Available to Add On
Get Started Today