poll
Digital Marketing & Search Engine Optimization

What is SEO?
Search engine optimization or SEO in short, is the process of improving your websites for the Google search results making it easier for your customers to find you. Think of SEO like the marketing and advertisement for your website.
There are billions of web browsing searches every day. This means that there is a huge demand for your website to have the first result on the Google index page. In fact, you're currently competing with your competitors for that top spot. With all websites competing for the top spot in search results, it can be difficult to rank high and send traffic to your website. So you can expect those with the knowledge and experience to improve their website's ranking will receive the benefits of increased traffic and visibility.
Hundreds of factors affect the way your website ranks and the Google search engines algorithm is constantly changing. If you're considering investing in marketing for your website, your next steps should be to invest time into learning about the latest Google SEO updates which could take you months to master or hire an SEO expert. Luckily for you, here at Web Sonoma, we pride ourselves in our marketing. We know how to rank high and two prove this we've maintained our top result for Sonoma website design over two years straight!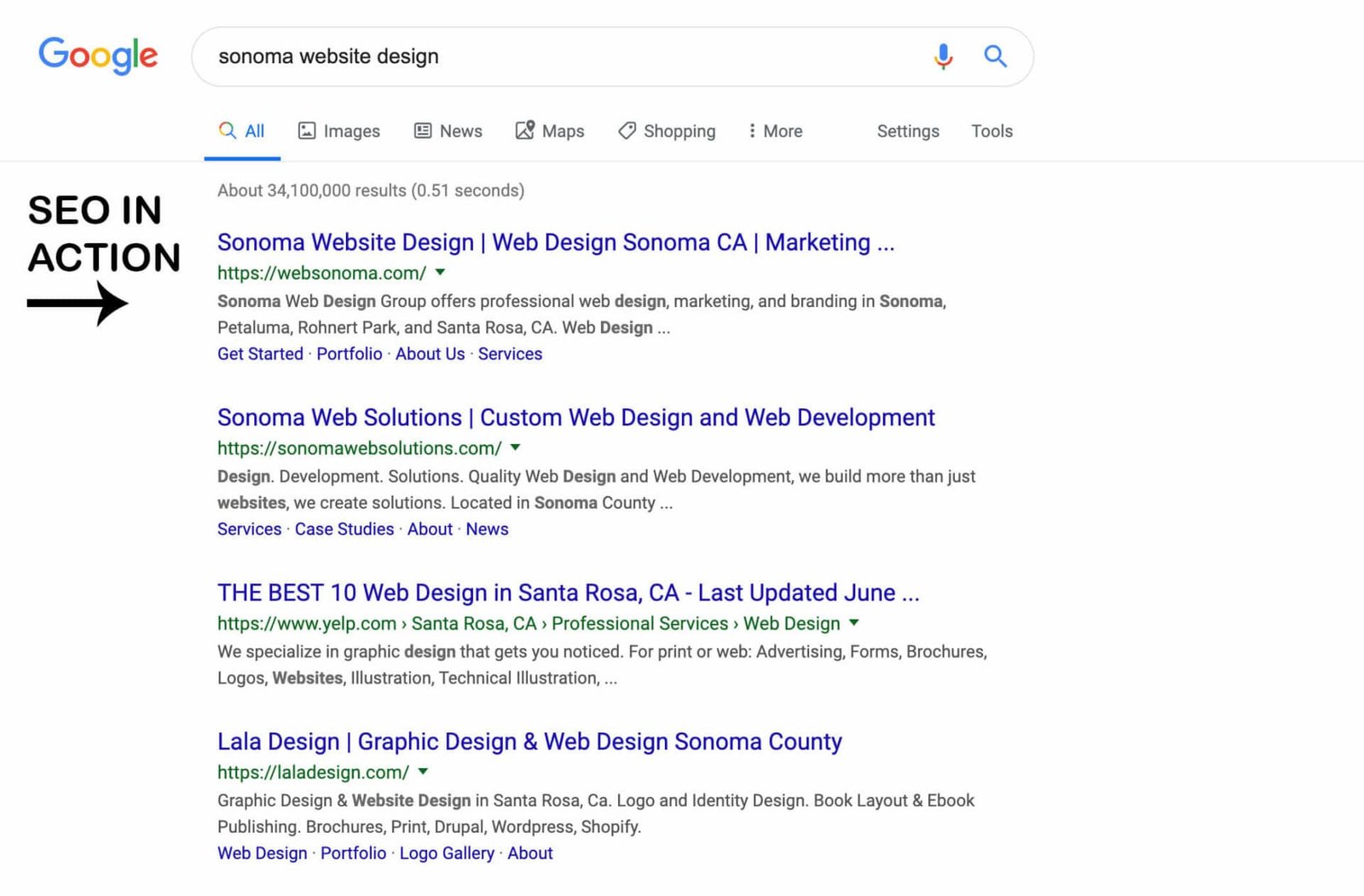 At Web Sonoma, we specialize in a creative approach to SEO. We don't think as the robots do, we think as humans do. We'll spend the time to analyze the trends your viewers are searching so that we can put your website at the top of your target audience's searches. The SEO process will take place over a 6-8 month period and you will find a significant growth in your SEO ranking organically.
Did you know?

Studies show the top 5 results get 75% of the clicks.
The SEO Features
Google Analytics
Link Building
Keyword Research
SEO Reporting
SEO Copyrighting
Social Networking
Reputation Management
Pay Per Click
Email Marketing
Conversion Optimization
Landing Page Optimization
A&B Testing
Find the perfect SEO plan for your business.
Don't worry if you don't know much about SEO. That's OUR job!
The Basic Plan
$300
/MO
The perfect starting point for a small business:
Basic search engine optimization for primary keyword phrase. Techniques include website keyword placement, search engine submissions, submission to online directories.
Basic social networking on Twitter and Facebook. Social networking will include interview with client to establish meaningful content for posts and searches for meaningful connections and/or leads.
Get started
The Enhanced Plan (recommended)
$640
/MO
In addition to the basic plan, this package includes the following:
Basic search engine optimization for up to two keyword phrases.
Social networking on Instagram
Social networking on Pinterest
Social networking on LinkedIn.
Reputation Management (monitoring online mentions of your company and occassionally adding valid, positive reviews).
Professional writing services to create quarterly press releases and submit them to online press release venues.
Up to one hour per month of website content updates and/or graphic design for the web or for print.
Get Started
For Enterprises
$1,280
/MO
In addition to the enhanced plan, this package includes the following:
Basic search engine optimization for up to three terms.
HTML email design to create unique, attractive emails to clients and prospects (up to two per month)
Weekly blog entries by a professional writer.
Set up of an RSS feed.
Listings with website sharing sites such as Del.icio.us and Digg.
Up to five hours per month of research, consulting, website content updates, graphic design for the web, or graphic design for print such as brochures, flyers, billboards or print ads.
Get Started