Why you need graphic design
While a picture may be worth a thousand words, graphic design can be worth thousands of dollars in any business. Let's read that again, graphic design is worth thousands of dollars for your business. Good graphic design is both beautiful and serves as a form of communication.
Here are 3 reasons you might want graphic design:
1. First impressions matter
Studies have shown that visual appeal can be assessed within about 50 milliseconds. This boils down to the fact that designers have to make a good impression within the space of 50 milliseconds. Think of your business' design as a handshake, the greeting between two people when they first meet. Do they smile or frown, do they say 'hi', 'hello' or 'good day', is the handshake firm and businesslike, or warm and friendly? We can make snap decisions and impressions about people in this one fast moment. This is exactly what design tries to do too, all within the space of 50 milliseconds: it tries to communicate who you are and what you do in less than a second.
2. Design sets you apart from the crowd
Chances are that for whatever product or service your business revolves around, there are many other people offering exactly what you do, perhaps in the same price range, with the same benefits etc. So, what can set you apart from your competition is a sleek design.
Let's consider a quick example: Blk Water. Blk Water (as the name suggests) is a brand of bottled water with a big difference – the water is black. The blackness supposedly comes from a bunch of nutrients and minerals, but added health benefits or not, the black was an evident design decision and one that sets them apart from the crowd.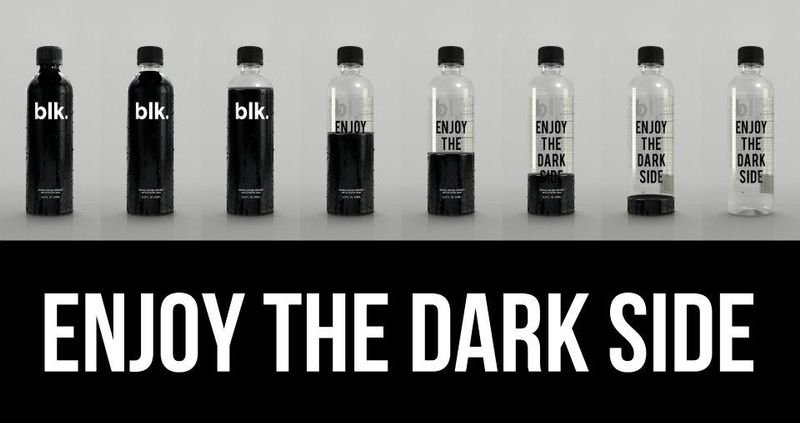 3. Graphic design can help solve business problems
Watch this video on how bad graphic design changed award shows, elections, and your medicine cabinet.
Studies have proven that people are majoritarily visual learners – 65% in fact – so, people that understand and grasp concepts far better when they are visualised in front of them. So, even if you understand the concept/topic/idea you are discussing, a visual aid or two certainly won't hinder your audience's understanding (as long as you do it correctly). Not like any of the examples in the video above.
There are heaps of types of visual aids, from graphs and charts, through to comics and illustrations, any visual aid to suit just about any need. Bad design requires an explanation and takes time to think. Good design should be smooth and ultimately help you.
Design is a good business decision!
Find the perfect graphic design service for your business
If you have any other questions you'd to ask, feel free to send me an enquiry.
Logo Design
$150
What you will get as the final result: .ai files (100% vector, resizeable) format CMYK & RGB
Additiontal files you will recieve: eps, .pdf, .psd, .jpeg, .png files
Additional Add Ons:
Brand Guidelines (Graphic Standard Manual) — $100
Businesscard Design (3 design options) — $40
Letterhead Design — $20
Get started
Landing Page Design
$600
Landing page layout design for your website. Designed to match your company's style and branding. Professional and Fresh Design, Easy Customizations, and using Google Fonts.
What you recieve:
Well structured PSD File
Preview Image (jpeg or png Files)
Fonts file That I used for the design
Get started
Other
Other Services
Need additional options. We've got you covered.
Flyer Design — $150
Facebook Profile Design — $100
Email Signature Creation — $40
Icon Set Design — $130
Photo Manipulation — $50
Get started